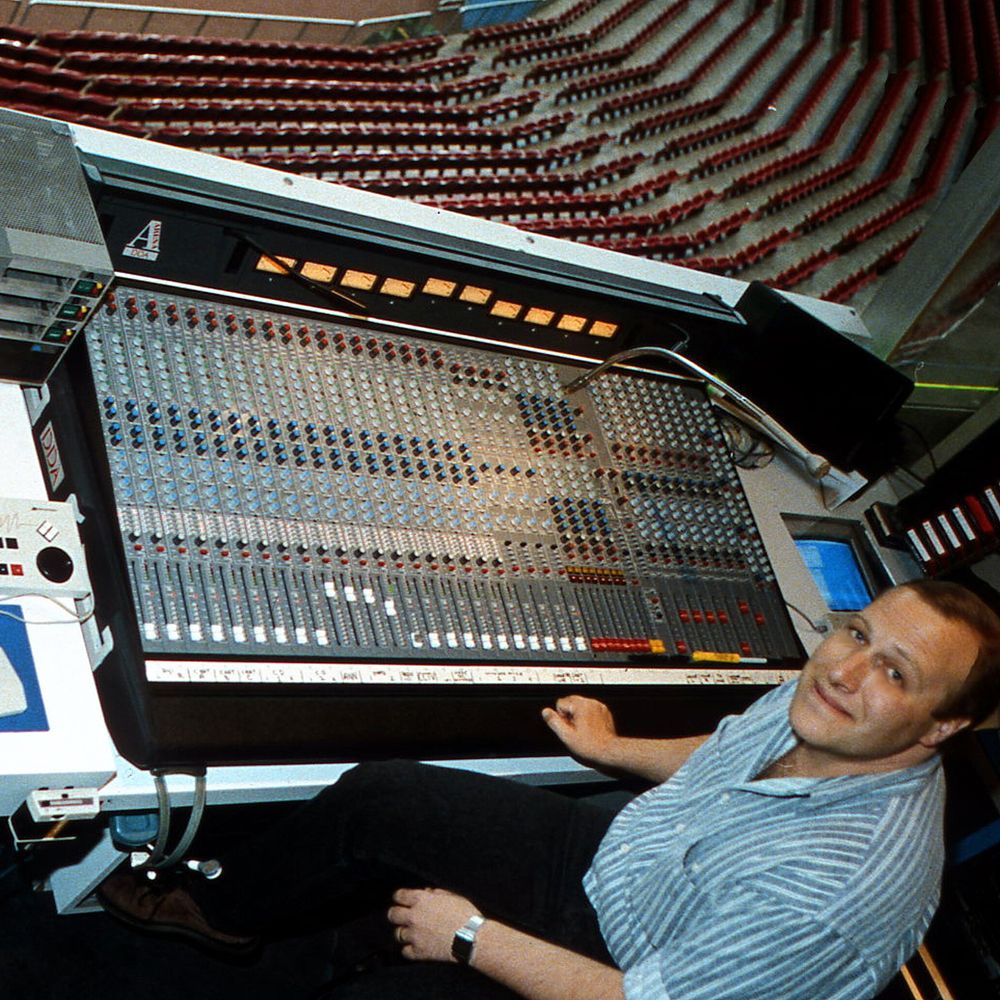 After three years developing his studio tan Bruce wanted to rejoin the live performance part of the music industry so he leveraged his studio reputation to land some club mixing gigs for some of the more successful Seattle area club bands. This soon led to gigs mixing FOH for many national touring bands. The road life got tiresome after a few years and Bruce was offered a job managing Kenny Huseby's KMH Rentals, a regional sound reinforcement company. In 1987 Mike Fisher (of Heart fame) brought him in to manage what was then known as Fisher Audio Systems. The company was soon rebranded as Proshow USA and grew rapidly into a regional powerhouse providing sound for national acts in many large venues.
Bruce did shows for many national acts either as front-of-house engineer, monitor engineer or systems engineer as well as running the day to day business of the company and supervising all the system personnel. He was also employed during this period by the Kingdome in Seattle, doing the field mix for all home Seahawks games and special occasions for the Mariners, opening night extravaganzas and such. 
While the sound reinforcement part of the company grew into a national player adding people like Andy Chappel, Dave Stevens and Allen Bagley to our roster of full time employees. The happy coincidence of the rise of the grunge movement in Seattle helped Proshow immensely. In addition to having a house system at the Moore Theater (which became the incubator of all the Seattle grunge bands) the company provided sound reinforcement for all of Nirvana's tours among many others.   
With the touring part of Proshow hitting on all cylinders Bruce saw an opportunity for expansion into large scale installed sound systems. He recruited another old bandmate, Brian Phraner, who had been working at a regional design/build sound contracting company. Leveraging the relationships they had formed with major audio manufacturers like Electro-Voice and Crown (by this time the Proshow touring inventory included multiple Midas consoles, close to a hundred EV MT2 & MT4 speakers and over 100 Crown Macro-tec amplifiers) they landed design/build contracts for large sports facilities such as the Kingdome and the Alamodome in San Antonio. Bruce shifted gears and he and Brian became the principal designers and project managers for all of Proshow's installations. Their designs were ground breaking featuring the first uses of touring cabinets for sports facilities instead of "flying junkyards", the first DSP front ends, DigiDesign's Soundtools replacing cart machines for playback, the largest Crown IQ systems in the world and AutoPatch digital patching replacing patch bays and enabling "one click" reconfiguration of the entire system which included computer controlled chain motors which raised and lowered the center speaker cluster for specific events. 
By late 1992 Bruce was experiencing friction with company ownership and decided to leave and start an audio design and consulting business with Brian and their long-time rigger, the famous Harry Donovan. Brian was not quite ready to make the jump yet so Bruce cast about for something to do in the meantime.